Pirate LIfe Brewery, recap, Burton Snowboards, brewery, 2019, Acai, craft beer, our story
SAYONARA 2019!
By Matty O'Callaghan
14 Feb 2020
With January 2020 (and a good slice of February!) firmly planted in our rear vision mirror, we thought it pertinent to share some of our fondest memories, achievements if you will, from 2019. It's not a short list, but it is a fun list, so we recommend grabbing a brewski. Preferably one of our IIPAs.

…and in the words of Bomfunk MC's: "Here we go!"

A combined 4th Birthday Party / Venue Launch on March 9th marked the opening of our brand-new state of the art facility in the heart of Port Adelaide. Work on converting the iconic Dalgety Woolshed into a fully functioning brewery and hospitality space began back in July of 2018, and we were stoked to share the results with close to four thousand punters across the day. Twenty four beers on tap (including six one-off brews), PL can bars, local food trucks and international music acts like, ahem…Hot 8's Brass Band, meant it was a fitting celebration, and one carried out in true Pirate Life fashion: To excess. Three weeks later and the masses would be back, as our first ever music festival, Day on the Cans took over the dispatch yard. A cheeky two thou stopped by to rip tins and witness Aussie Hip Hop royalty, Drapht, tear up the stage.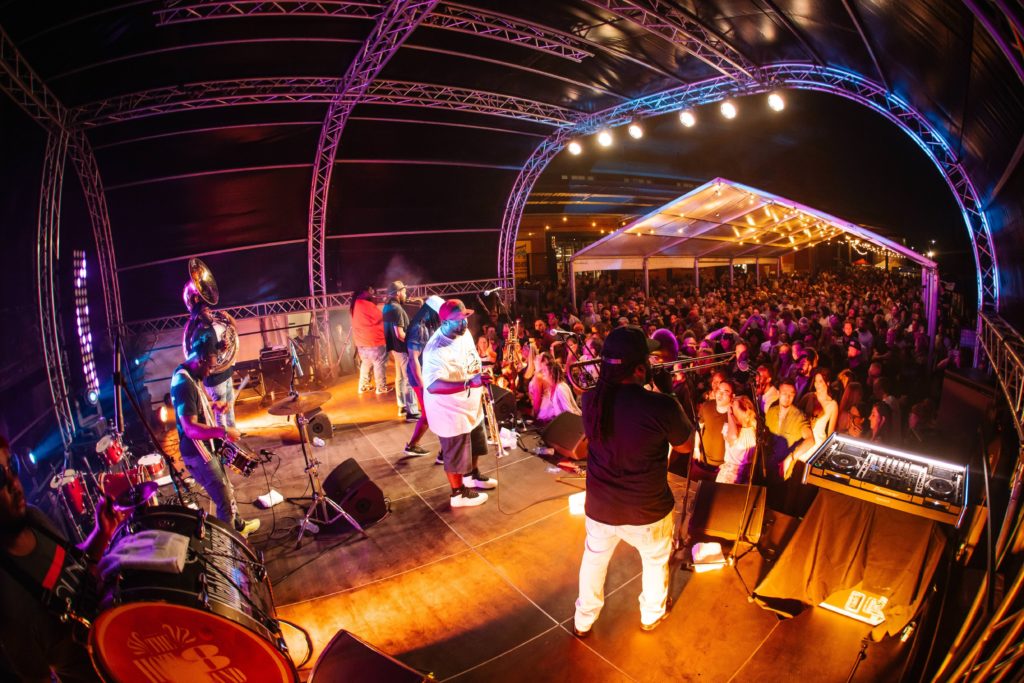 By this time, the beer hall was in full swing, opening every day from 11 am. The space itself is bloody big. Three hundred bodies big, with an eighteen-metre ceiling and a barber shop…a far cry from the humble thirty capacity showroom on South Road. Hospitality crew hit the ground running, learning the products, adapting to our special kind of crazy and realising quickly that it takes around fifteen seconds to walk the entire distance of the bar.

On the flip side, production team were also settling in to their surroundings. The new 5000 litre, German designed brew kit from Krones (assembled late 2018) took some getting used to, mainly due to its striking efficiency and automated control system. It's been likened to a Mercedes Benz A-Class gliding effortlessly down the autobahn, a step away from the Hindmarsh set up, which is half the size and more akin to a manual Torana swinging ass backwards down a dirt track. Both have their appeal. 12 x 20,000 litre fermenters, followed by a further 4 x 40,000 litre big boys would require filling, kicking the official brew, cellar and canning roster into motion.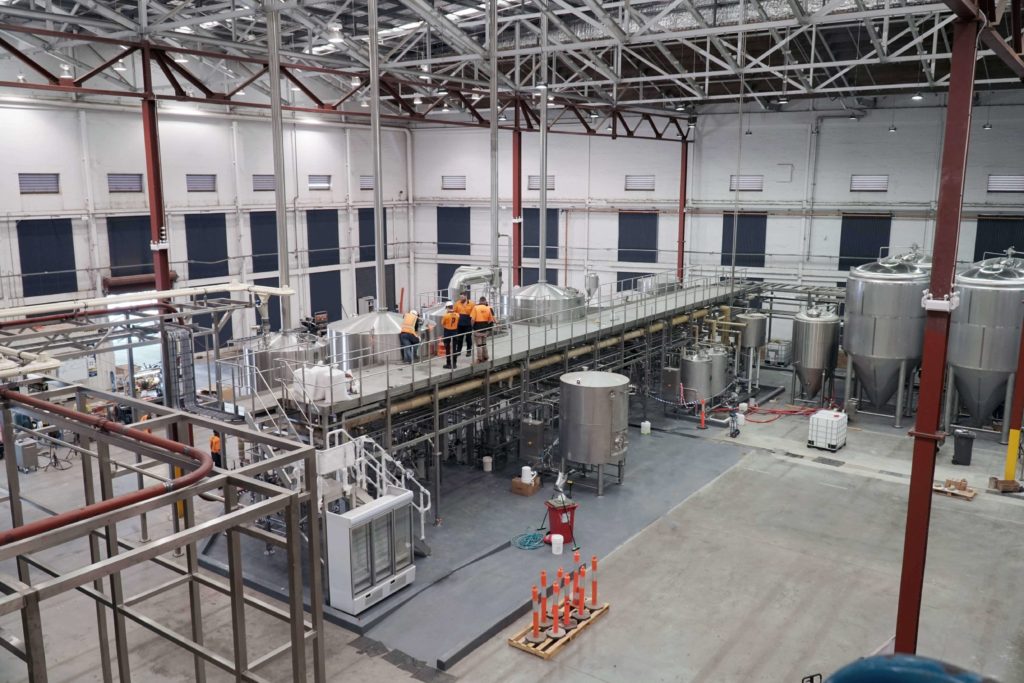 Hindmarsh Brewery remained open for the entirety of 2019, and while punter presence in the Showroom naturally declined, beer production forged on, birthing a mind numbing sixty new recipes for the year. The NPD (New Product Development) schedule jumped off in January with the release of our 8.6% Whisky Barrell Aged Stout, which utilised oak casks from Limeburners distillery in WA.

By the end of April, we'd released a total of twelve more specialty brews, eight of which were featured at the Great Australian Beer Spectacular held annually in Sydney, Melbourne, Auckland and for the very first time, Brisbane. It was our biggest ever outing at GABS, with Sydney clocking the highest sales on record for PL in a single session. Mango Lassi Thick Shake, Nitro Coffee Stout and an IPA championing the dope new hop varietal, Strata, topped the list. Cheers to everyone who came and supported us...(we'll see you in May!)

Back at the Port, our newly developed 'Acai and Passion Fruit' (sour) quickly joined Pale Ale and Port Local Lager as one of the highest selling beers on tap. It paved the way for a myriad of sour releases by years end, each with their own tart tale to tell. Along with Acai, the following recipes were canned in 2019: Easy Ale, Tropical Pale, Tropical IIPA, Frontside Ale, North West Pale, Boysenberry Sour, OG Stout, Hoppy Amber (Beer and BBQ release) and a special one-off tin for the Port Adelaide Football Club (PAFC).
The full list of 2019's beers can be found at the end of this post!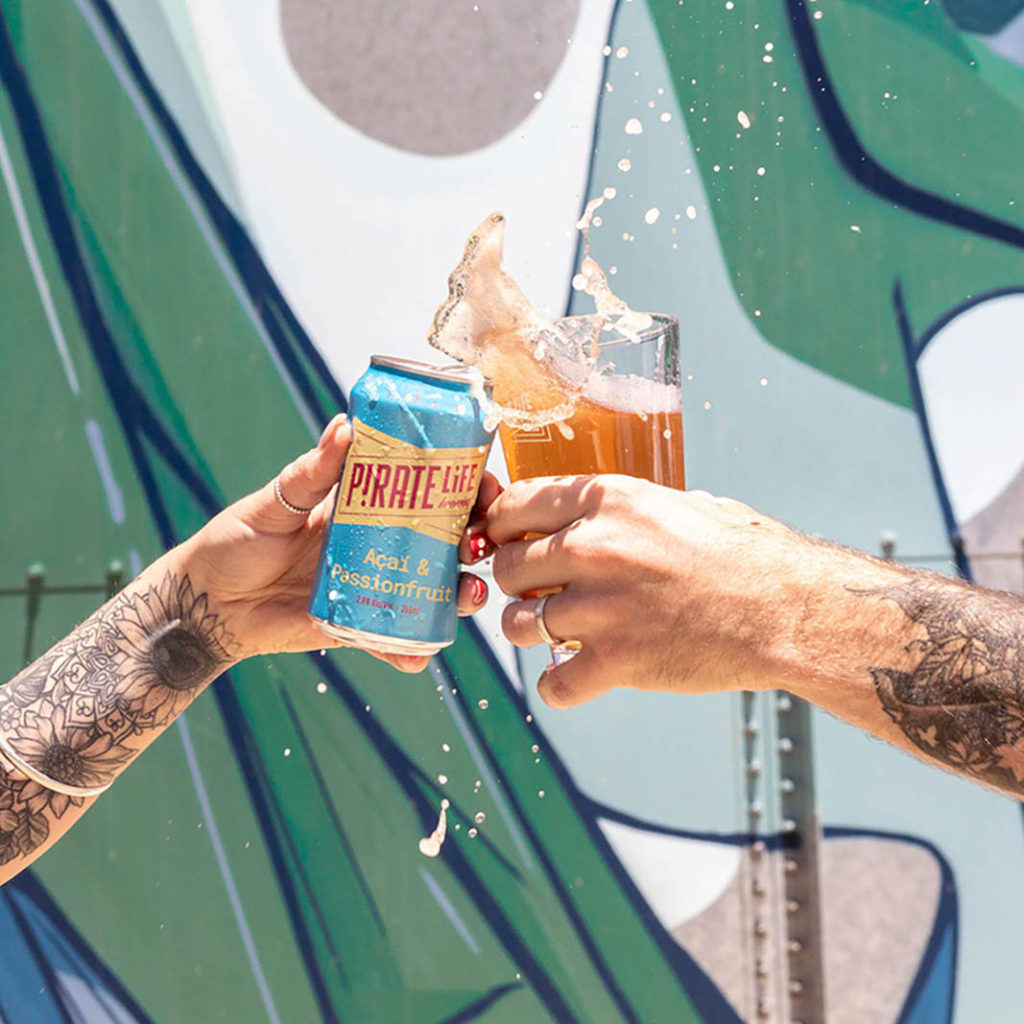 So, what else? The most exciting lifestyle collaboration of 2019 (and possibly since launching Pirate Life back in 2015) was that with Burton Snowboards. By teaming up with the iconic forty-three year old company, we we're given an opportunity to chill with some of the most passionate people on the planet, as well as score some invaluable international exposure. Along with a range of specialty clothing lines, we developed the Burton X Pirate Life Frontside Ale – a low hopped, 4.8% ABV smasher, which was ideal for crushing after a hard-fought sesh in the pow. Together with Burton, we launched Frontside Ale at the Pirate Life Cattleman's Rail Jam Afterparty at Mt. Buller on Saturday, 20th July. Big air, good vibes and a butt ton of snow…need we say more?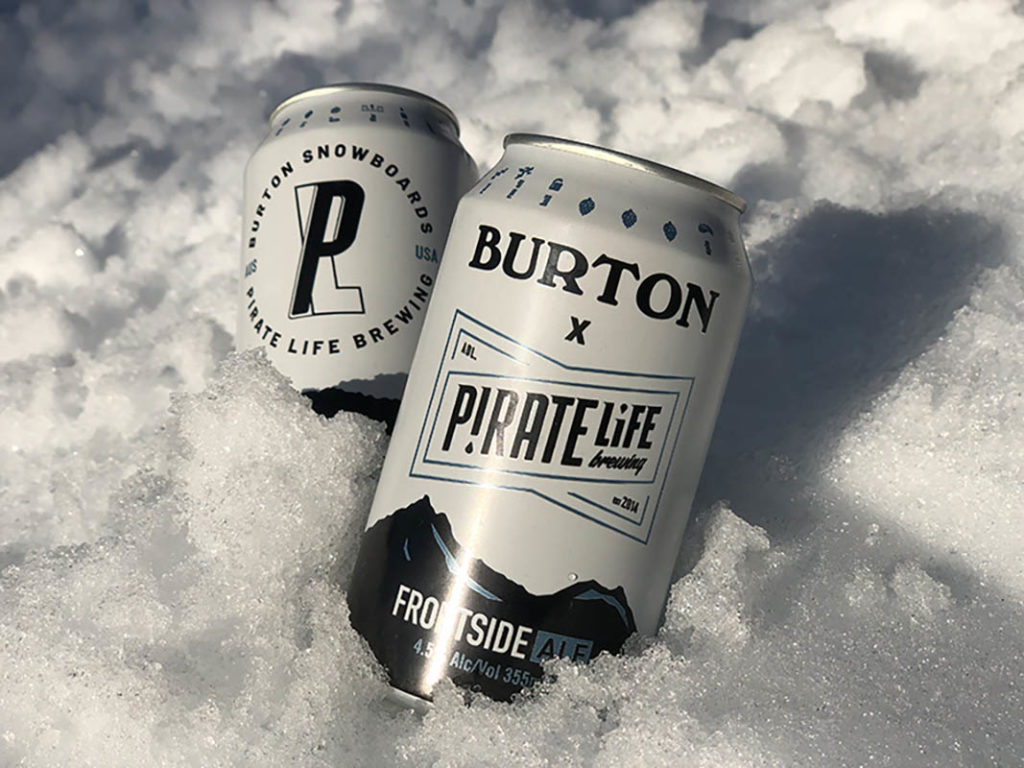 Sticking with movement, our relationship with the PAFC grew steadily across the year, with an announcement that Pirate Life would be brought on as an official partner for the 2020 home and away season. In June we joined the club in Shanghai for their match against the Saints and relished the opportunity to share a coldy (or six) with AFL enthusiasts abroad. Later, in October, we'd house two thousand dedicated Port members at our brewery for the launch of the club's 2020 guernsey, flash new insignia and a commemorative can in celebration of their 150th anniversary.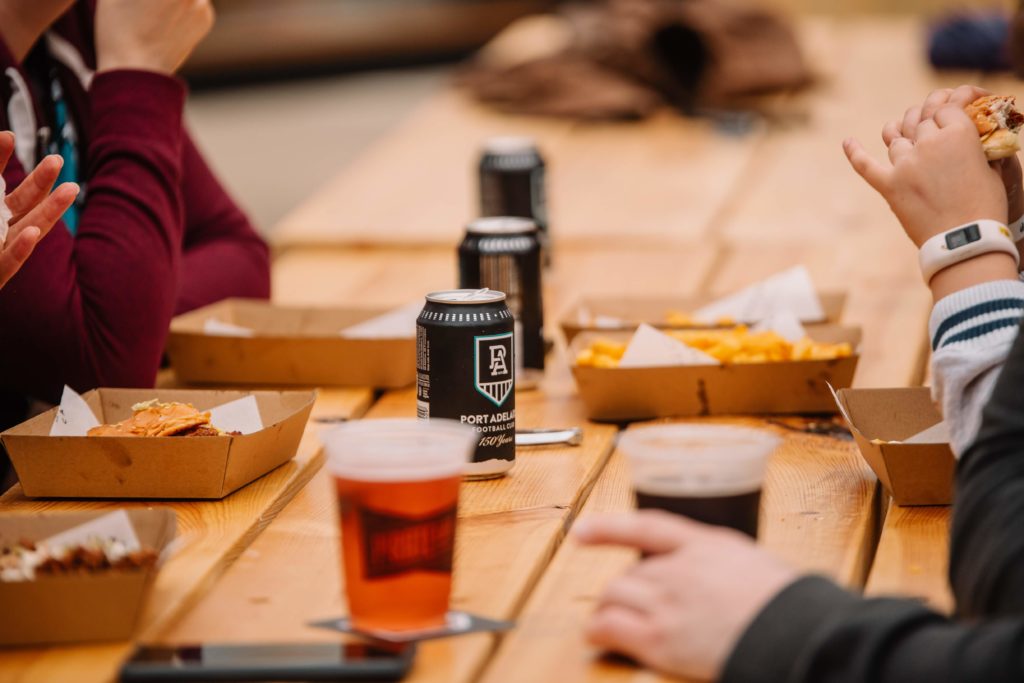 Footy Pie. Footy Pie. Footy Pie. Pirate Life decks at both Adelaide Oval and Metricon Stadium cemented our presence in the realm of Aussie rules, as did our MCG collaboration beer the 'MCC Ale', which launched across members bars during the season opener between Richmond and the Blues. Tiges got up. The beer went toe to toe with Carlton Draught for the duration of the 2019 comp, as well as fuelling the fanatics during the boxing day test. It'll do the same in 2020.

The global exposure continued with the UFC, as our beers were tonked ringside during some of the year's biggest fights. Simultaneously, a partnership with the international Dart's Masters competition saw our specialty mid-strength, aptly named 'Darts Lager', poured in both Melbourne and Brisbane as the world's finest took aim. It's worth mentioning that our involvement in high profile events such as these wouldn't be possible without the continued support of CUB, to whom we are forever indebted. Figuratively speaking.

From east to west, and huge plans were confirmed to build a world class brewpub in Perth's CBD with the elite crew from Sneakers and Jeans. They already boast some of the city's most exciting and unique venues and in 2020, we'll add Pirate Life Perth to that list. With our founders Jack, Red and MC all hailing from WA, this venture is loaded with mojo and we are all pumped to see it come to life. Stay on socials for updates, cause it's going to be mint…

Grab another can! We're almost there! Back on a local front, our love for the arts reached new heights (literally), with PL jumping on board as principal sponsor for the 'Wonderwalls' initiative down in the Port. Long-time friends of Pirate Life / industry legends Mike Makatron and Vans the Omega threw down some colour on site, each taking on forty-five metre walls. You can view both epic pieces (plus a bunch more) on a tour of our brewery – they leave daily at 12, 2, 4, and 6. This year's instalment of Wonderwalls is going to be mad, so grab a fringe guide and lock it in!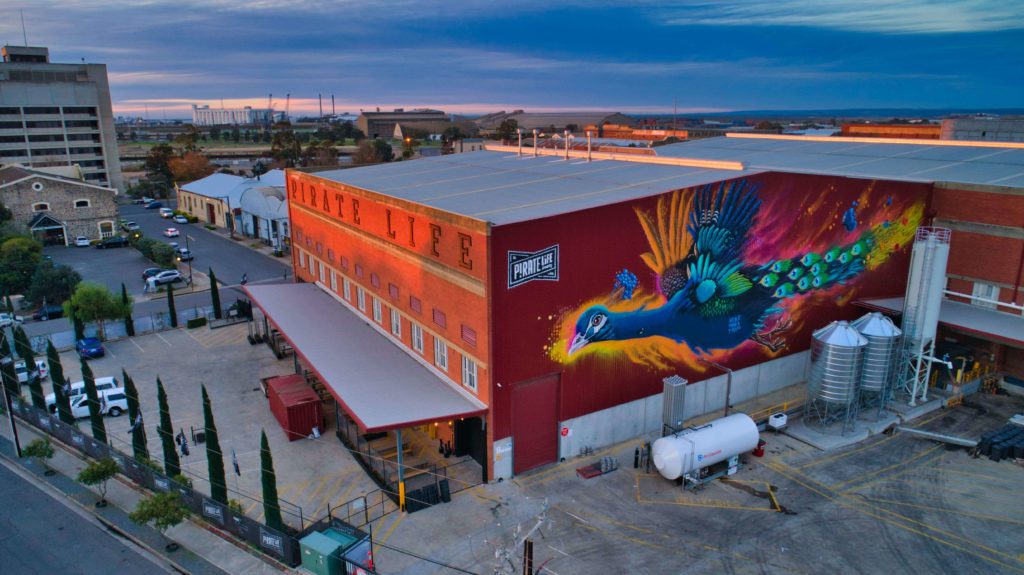 Did someone mention accolades?! We must be nearing the end. Yes, it's true, Pirate Life was one of the most awarded breweries at the Australian International Beer Awards (AIBA) in 2019, the largest annual beer competition in the world. The Alcoholic Beverage Advertising Code (ABAC) took note of our 'unapologetic' approach to business too, affording us a record number of reports for the year. This, as far as we're concerned highlights two indisputable truths: We produce an impeccable product, and we're still refreshing AF.
2019 was a massive year of growth for our brand. New brewery, sixty beers, thirty fresh crew, record litres produced and some wild collaborations that anchored us even deeper into the global ocean. When you boil it down, we're just like any other business. There's day to day mayhem, late nights, early rises and a lot of 'passionate' discussions. But If last year taught us anything, it's that we are still, before anything else, a family. We had help getting to where we are, we make no bones about that, but the embers that brought this dream to life back in 2014 still burn in each and everyone one of us. We love what we do, and we do what we love. No compromise.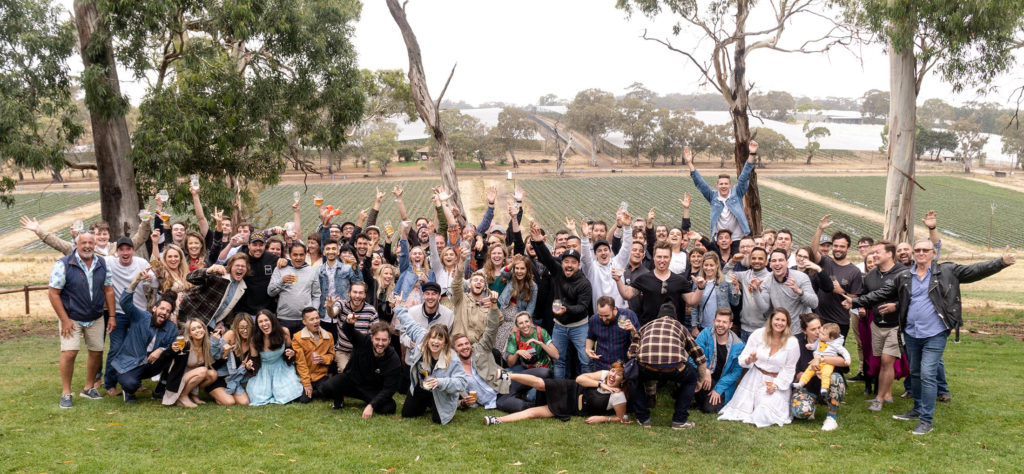 So, what's happening in 2020? Well, our Birthday is just around the corner and it's shaping up to be our biggest, most lavish celebration to date. It'll boast ten new specialty beers, stellar local grub, live art and the Aussie rock outfit, You am I. Saturday 7th of March - don't miss it! On a production front we plan to knock out one hundred beers (twelve for GABS), and with a new labeller being installed, you'll be able to rip into more of them on your own terms. Also, for the historians amongst you, you'll be pleased to hear that our beloved Hindmarsh Brewery is currently being decommissioned and recommissioned here with us at the Port. What a thing.

We'd like to take this opportunity to say thank-you each to every one of you for your support and mateship, not only during this massive year of transition but since we first dropped that IIPA at the Gilbo back in 2015. Our doors are wide open. Seven days a week. Stop by for a yarn, as you can see, we've still got plenty to say…

See you at the bar,

PLB Crew.


Acai & Passionfruit Sour 3.8%

Alfonse Ale 5.7%

Apple & Guava Sour 3.8%

Australian Pale Ale 4.6%

Barangaroo Ale 4.7%

Beerhaus Pilsner 5.0%

Black IPA 6.5%

Boysenberry Dark Sour 6.0%

Brunetta del Montenegro Porter 6.5%

Cherry Sour 4.0%

Christmas Ale 3.5%

Dark Lager 4.8%

Darts Masters Lager 3.5%

Desert Lime Ale 4.8%

Easy Ale 4.5%

Ferry Road Ale 4.7%

Festbier 5.4%

Hard Green Tea 3.8%

Hoppy Amber Ale 5.0%

HORT 4337 IPA 7.1%

HORT 9909 Pilsner 5.0%

Iced Coffee Thickshake 7.6%

Imperial Breakfast Stout 11.0%

International IPA 7.2%

Kiwi Sour 3.8%

Kohatu IPA 7.0%

Lemongrass & Ginger Sour 3.8%

Lighthouse Ale 4.2%

Lime Gose 4.9%

Limeburners Whisky Barrel Aged Stout 2018 Vintage 8.6%

Loose Lips Sink Ships 12.2%

Mango Lassi Thickshake 7.6%

MCC Ale 4.5%

Mid Strength Lager 3.5%

Mulberry and Cherry Dark Sour 6.0%

Nitro Coffee Stout 2.0 6.0%

North West Pale 5.8%

NZ IIPA 7.8%

OG Stout 5.8%

Old Fashioned Red Ale 5.6%

PAFC Lager 4.5%

PL x Burton Frontside Ale 4.5%

Point Five 0.5%

Pomegranate Sour 3.8%

Port Local Porter 4.8%

Red Rock Ale 4.7%

Riverland Tropical IPA 3.5%

Roche Choc Hazelnut Thickshake 7.6%

Social Lube Riesling Pilsner 8.4%

Strata 7.3%

Strata Amarillo 7.0%

Strata Amarillo Mosaic IPA 7.0%

Tropical IIPA 8%

Tropical Mid 3.5%

Tropical Pale Ale 4.8%

Vanilla Malt Thickshake IPA 7.6%

West Coast IPA 7.0%

Chilli & Tamarind Gose 4.3%

Kiwi & Mandarin Sour 3.8%

Point Nine 0.9%