barrel, Pirate LIfe Brewery, limeburners, Collab, stout, beer, Beer Updates, whisky, whiskey
LIMEBURNERS × PIRATE LIFE = WHISKY BARREL AGED STOUT...PART DOS!
By Matty O'Callaghan
08 Sep 2020
Following the success of last year's release, we are proud to unveil yet another indulgent chapter in the Limeburners + Pirate Life collaborative series. Check out our exclusive interview with Limeburners' founder and Master Distiller, Cameron Syme RIGHT HERE!
We'll just come right out and say it. This one's bloody good. Some of the crew are even whispering GOAT - a term reserved for beers with unrivalled levels of dopeness.
This stout has that (along with a colossal hit of booze), so we recommend it be savoured not skulled; preferably from a decent glass, with someone you reckon will appreciate it too. Any mate with a functioning set of taste buds should suffice.
It's our second go round with the team from Limeburners, a relationship that began in 2016, when their founder and Master Distiller Cameron Syme stopped by our (now decommissioned) Hindmarsh Brewery for a yarn.
He was a long way from Albany, WA at the time - the coastal town he calls home, and the birth place of Limeburners Distillery, which recently won World's Best International Craft Spirit at the American Distilling Institute Awards.
Red, Jack and MC seized an opportunity to break bread with a fellow West Coaster, and after a few froths (and a wee dram) conceived the Whisky Barrel Aged Stout present here with us today.
Here's what Cameron had to say about the current release:
"It has an incredibly rich flavour. There's a whole lot of complexity, you know, beyond the roastiness that you get from from the grain, which you'd expect to be a dominant element."
There's some pine needles, there's light chocolate honeycomb characteristics...there's an incredible sweetness to it, but that acidity balance I think is really, really good in this. This is the top one or two stouts I've ever tried."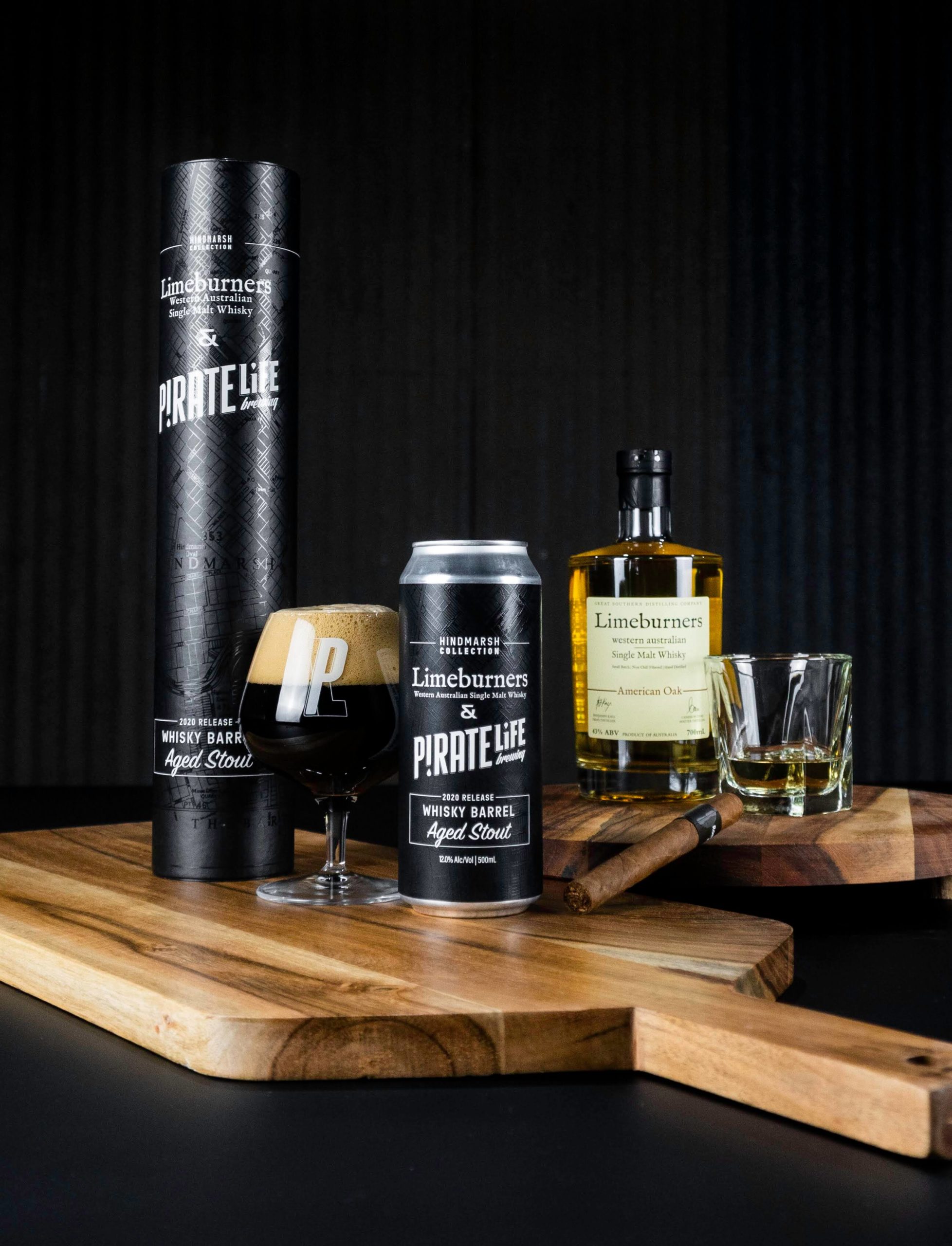 Limeburners aren't just good mates, they share our passion for quality as well, and for the last two years this collaboration stout has both united, and celebrated our respective crafts.
Brewed on PL's Port Adelaide kit with a selection a premium grains, it has been aged in American oak barrels previously used to house bourbon, port, sherry and subsequently, Limeburners' award-winning Single Malt Whisky.
Twenty-six barrels were used in total this year, with time on oak ranging from six to eight months. During this period, each imparted their own unique character into the beer. Cameron touches on the casks themselves.
"The barrels we send you (Pirate Life) have a combination of both peated and unpeated barrels, but mainly of the unpeated variety."
By the time we choose the barrels for you guys - because we're looking at those sweetest, nicest looking barrels that we can send over to you - they've really got that single malt element driving through it...of course, we also include some of our finishing casks."
It is these 'finishing casks' (comprising of ex port and ex sherry barrels) that get Head of Brewery Operations, Lewis Maschmedt, really excited.
"It's mind blowing when you're sitting out there doing barrel tastings, anything that's gone into a sherry barrel; I don't know what it is, but it's a magical like mixture - the sherry, the whisky and the beer all together."
That's one of those moments where you sit there, you pull the nail out of the barrel, taste a little bit of the beer and then you all sort of stand around and look at one another and go, 'how fucking good's that'."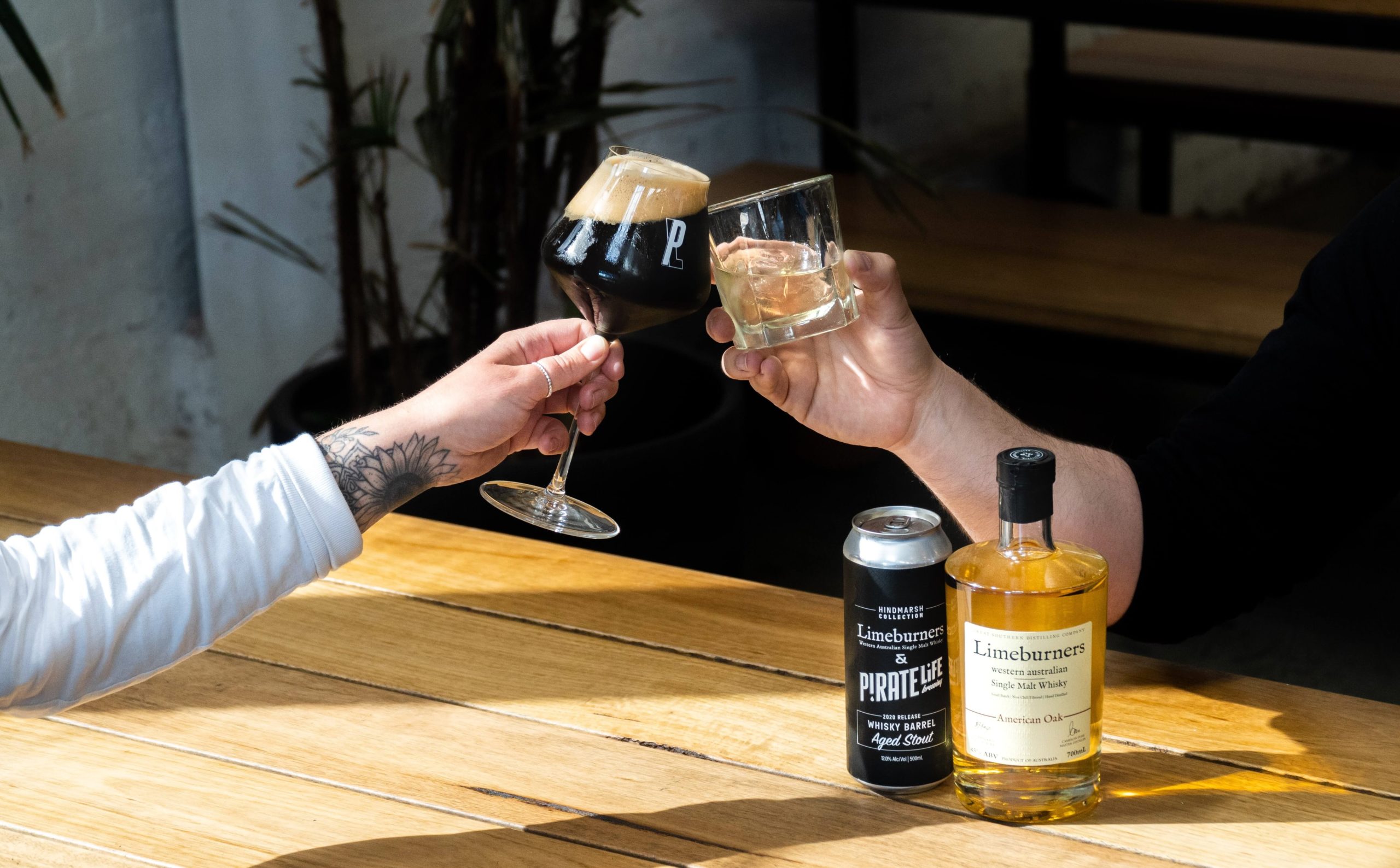 By sampling each barrel periodically, we get a feel for when the beer is at it's prime. Only the choicest and most 'complimentary' casks are used to create the final blend - the same process used when crafting whisky.
Given the diversity of barrels sent to us this year, we feel the end result is a vast improvement on 2019's release.
"I'm so happy with it," says Lewis. "I'm super excited for customers to get their hands on this because I think that it's one of the first times in Australia that there's an opportunity for the consumer to taste a Whiskey Barrel Aged Stout of the likes that you can get your hands on in the United States and over in Europe..."
2020's vintage comes in an elegant twin-tin-sleeve, so you can drink one now, and cellar the other. If stored correctly (in a cool, dry place) it will only gain complexity in the years to come. Secure yours from the brewery, participating bottle-shops Australia wide, or via our online store today.
Be quick!
Oh, and make sure you check out the exclusive interview with Lewis, PL Co-founder MC, and Limeburners' Cameron Syme RIGHT HERE!
Cheers,
PLB Crew.