Pirate LIfe, Pirate LIfe Brewery, New England IPA, craft, Beer Updates, hazy, NEIPA
DDDH CRYO NEIPA + HAZY IPA
By Matty O'Callaghan
18 Sep 2020
Pirate Life's DDDH CRYO NEIPA and Hazy IPA have landed! They're unfiltered, hyper-fresh and brimming with hoppy goodness! We caught up with Jackson Purser - weekend philosopher, new dad, and Head of Brewery Operations at Pirate Life Perth, for a low down on the recipes, and an insight to this 'evolving' style...
Hey Jackson, the New England IPA (NEIPA) has come a long way since it's inception in Vermont over a decade ago. We've just dropped our first as a brewery, along with a 6% Hazy IPA. Both styles are gaining popularity down-under; in your opinion, what are the are key differences between the two?
In my opinion the difference between a NEIPA and a Hazy IPA is all in the interpretation. A NEIPA generally has a big fruit juice hop aroma and flavour, a lower perception of bitterness and a 'very' hazy appearance.
We looked at what we like about NEIPAs, and in that context, created an IPA. The Hazy IPA has the same fruit driven aroma, but is less hazy to the eye - go figure! We've also made it drier, and given it a slightly higher perceived bitterness. We think this is what makes our Hazy IPA balanced and moreish.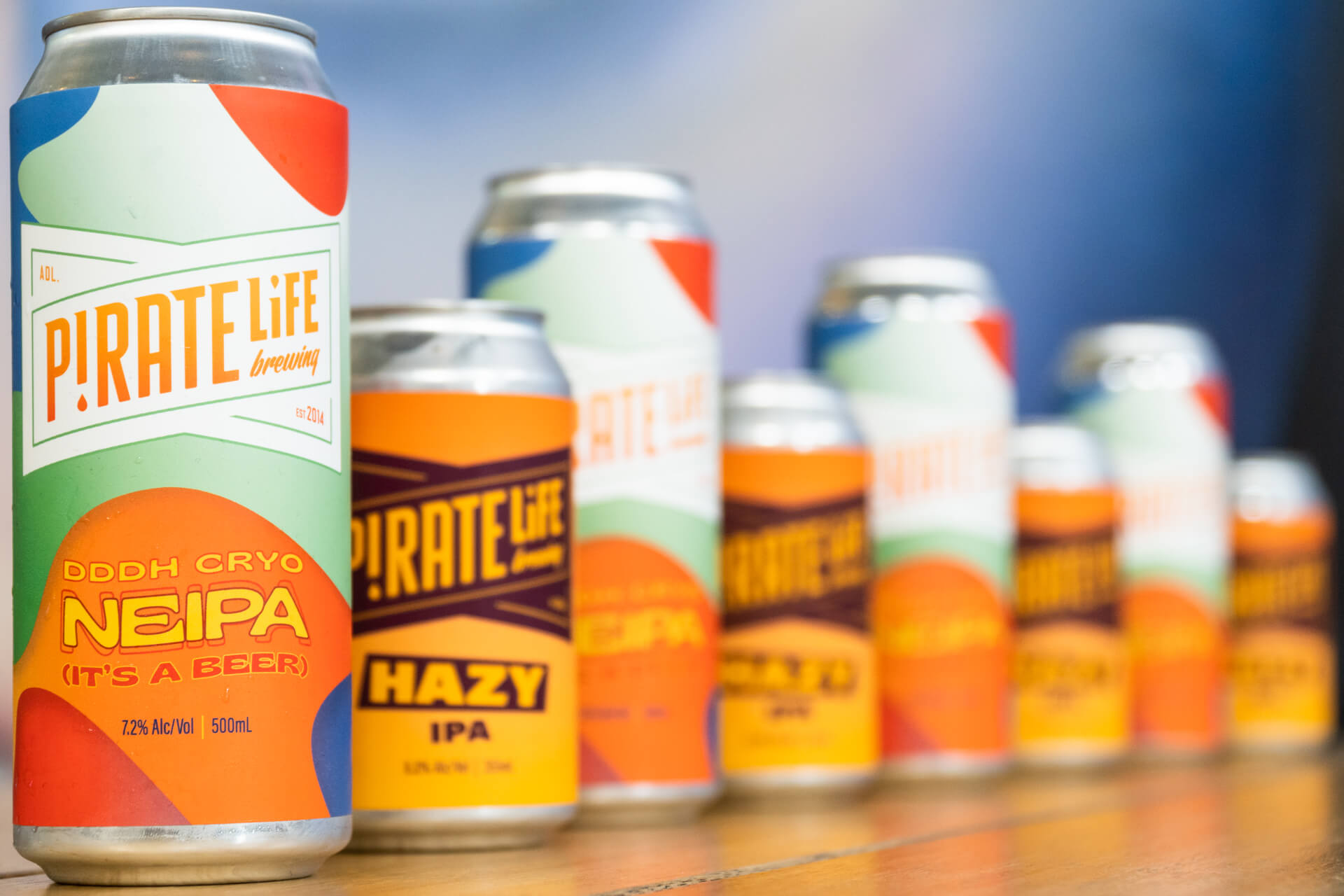 According to the Beer Judge Certification Program (BJCP) guidelines, our NEIPA really hits the brief. It's appropriately opaque, hop forward, and less 'sugary' than other Aussie examples in the market today...
True. If we're nit-picking, I think (for better or for worse) the Australian interpretation of NEIPA has strayed a little bit from the breweries in the US that started the style. These US beers all had a reasonably high bitterness, an 'impression' of sweetness (due to the addition of dextrin malts) and were toying with ways of skewing that perceived bitterness down whilst maximising hop flavour and aroma.
A fair bit of research went into the development of our DDDH CRYO NEIPA and Hazy IPA, can you elaborate on that journey? Oh, and just for the record, what the hell does 'DDDH CRYO' stand for?!
(Laughs) Well, there were four PL brewers in the official email chain: Aitor Nieto Cortes, Alex Mattingly, Lewis Maschmedt, and myself. We must have bounced thirty or forty emails back and forth. We sent Red (PL co-founder) a well researched beer in terms of brewing technique, with some specifics in regard to recipe development.
He pointed out that the beer could be focused into different styles, and 'why not pull the recipe apart and create three different, more defined products'. These were the 6% Hazy IPA (dryer, sessionable, with a combination of US and NZ hops), the 7.2% DDDH CRYO NEIPA (bigger, fuller mouthfeel with more booze and classic US hop varietals) and an Oat Cream IPA (yet to be produced, sweeter, higher in booze, with a decadent, creamy mouthfeel and very low bitterness).
As for the DDDH CYRO thing, it's a direct reference to the 'three' dry hops that go into the NEIPA. Cryo hops are basically the lupulin glands from the hop flower. The hop flowers are cryogenically frozen to help separate the plant matter from the good shit.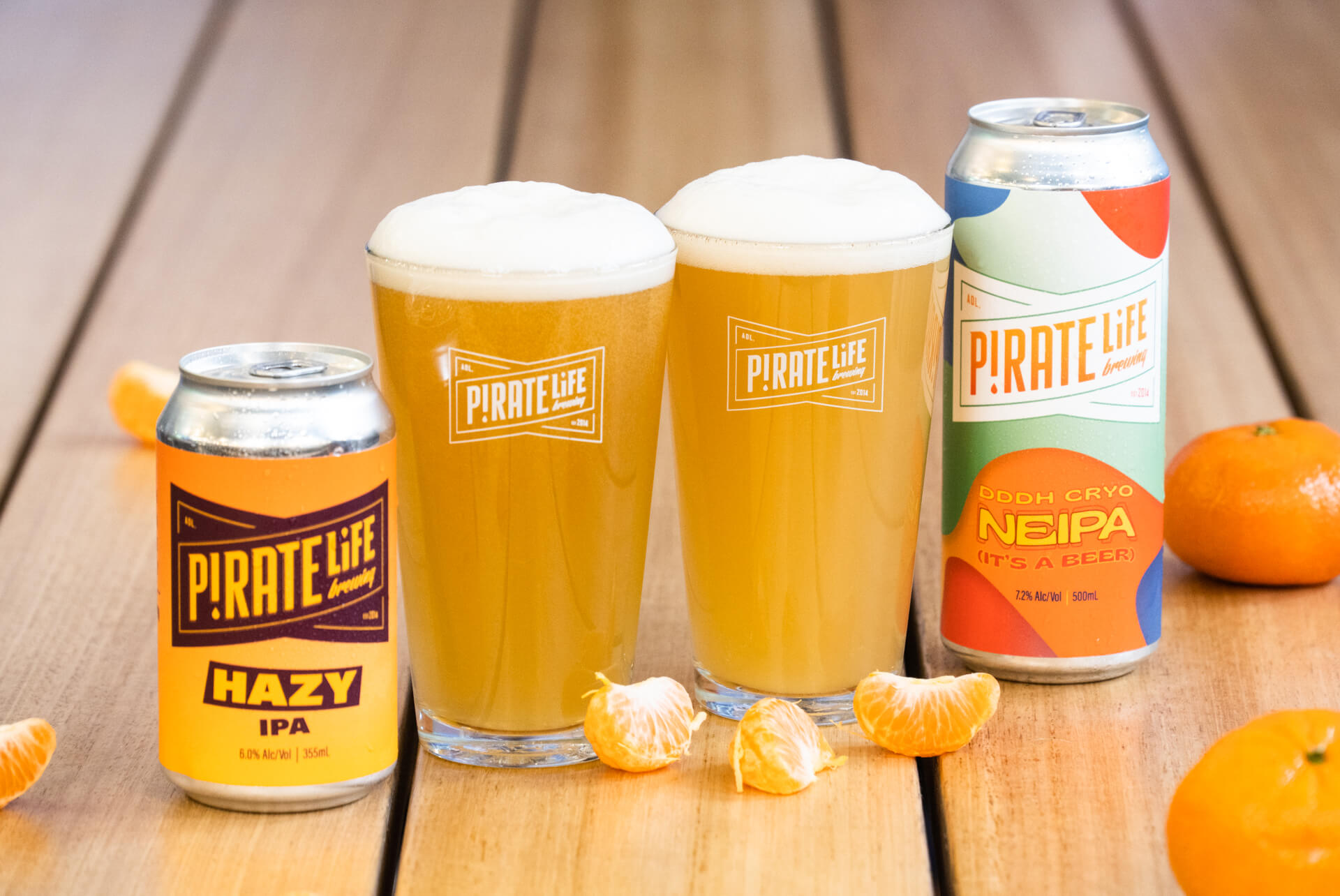 You helped nurture these beers from inception to the pint, can you comment on their respective brew processes in relation to yeast, water, grain, hops, yeast, cellaring and filtration?
Sure thing! These beers both use an East Coast Ale yeast. It attenuates well and supplies mild fruity esters - though we'll likely experiment with different strains moving forward.
Their water profiles are super soft, and contain high levels of calcium chloride and lower levels of gypsum. This helps enhance mouthfeel and decrease perceived bitterness.
They're brewed with Pale Malt, Wheat, and Carapils. The NEIPA also has an inclusion of flaked oats, which (due to higher levels of proteins) contributes a soft and creamy mouthfeel.
Both beers use a tonne of hops during the whirlpool and ferment. The main difference being the hop varietals, and rate at which they're added. For example, the NEIPA has three dry hops in the ferment, and utilises the US varietals Simcoe, Amarillo, Mosaic and Idaho 7. This produces a specific hop compound called Geraniol, which turns into beta citronellol - the compound that smells like fruit juice!
The Hazy IPA on the other hand has one large ferment addition - a combination of US and Kiwi hops, Mosaic, Citra, Taiheke, Wai-iti. It's this dry hopping which creates the polyphenols responsible for generating the majority of haze in both beers.

There's a noticeable difference in hop flavour and aroma between them. The Hazy has a unique mandarin, lemon rind character, whereas the NEIPA has that classic breakfast juice feel, with a welcome hint of grapefruit.

Cellaring and filtration is pretty simple. We don't want to strip any flavour or haze out with filtration, so we sit the beer cold in tank for a few weeks, and then transfer it across unfiltered into the bright beer tank – where it's ready for can or the keg.
And are you happy with how they turned out?
Yeah I'm stoked with how they've turned out for our first attempt through the Krones brew-kit at Port Adelaide. Like any new beer, your first attempt always has areas you can tweak to improve. We'll sit down over a few and dissect them and no doubt learn a few things for future batches.
Good to know we plan on sticking with them! How could we improve the current recipes?
I think the key thing to dial in on is maintaining the hot side (whirlpool) hop flavour, and not overdoing the perceived bitterness. Plus, for mine, it's all about aroma. You can never have too much hop aroma.
We can achieve this a number of ways, be it bringing in new hops or yeast strains. We're able to be fairly dynamic with our beers now, with so many small tanks and the three breweries (Port Adelaide, Perth and SkyCity) coming online!
Pirate Life have historically avoided producing unfiltered Pales and IPAs (even going so far as releasing 'Unfazed by the Haze' – a cheeky rip on the NEIPA craze). Can you give us any insight as to why this is, and why we've just now decided to jump onboard?
Initially the crew just didn't really dig the style that much. But as our team has gotten bigger there's a wider variety of beers that people within the team enjoy. It's clear that the style is here to stay, so we decided to take it on and look at giving it our own spin. NEIPA is on the opposite end of what we're used to making in terms of balance, so it was a cool learning experience for the crew.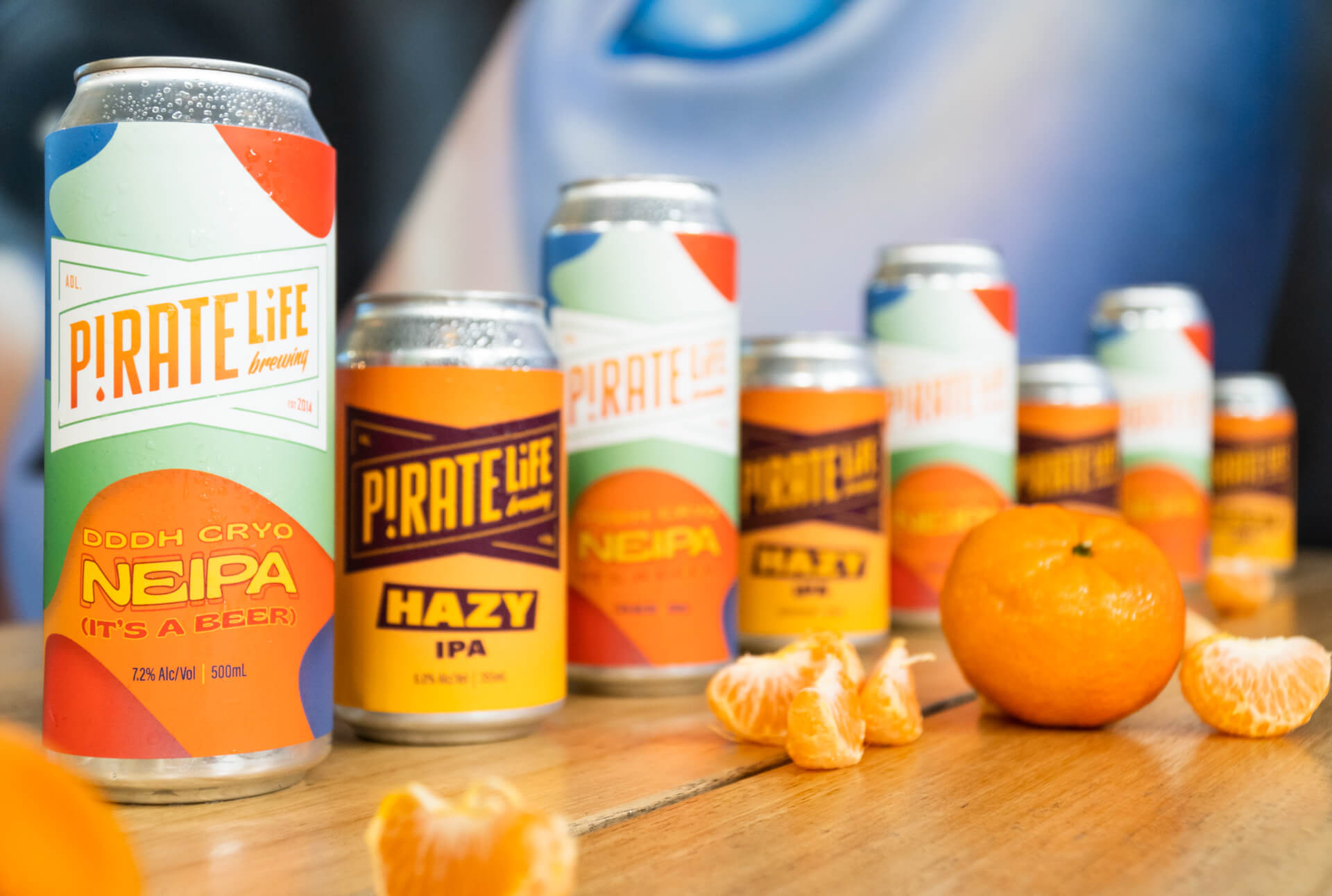 Very well articulated mate! Now, let's quickly look at Thickshake IPAs, which evolved from the New England style. We've been brewing these since 2017, can you touch on how they compare to an Oat Cream Ale – the other style under this banner gaining popularity?
Thickshake IPAs generally speaking have a fair dose of both lactose and nitrogen to really mimic a thickshake mouthfeel! They've exploded this trend of using ingredients outside of what would usually be considered an ingredient you'd put into beer - the confectionary isle is now a supplies store! Definitely something for the sweet tooth's out there.

An Oat Cream IPA is more about propping up hop flavour and aroma by using oat flour or rolled oats to create a luscious mouthfeel. If you're comparing these two styles back to New England IPA, I think Oat Cream IPA has strayed less from the initial brief.

But then again, there's so many brewers out there with different interpretations of the style. I don't think anyone could say with any authority exactly what a new world IPA is!
So excluding confectionary (laughs), what else are Aussies finding so irresistible about these beers?
It's the familiar flavours in my opinion. Juicy, mango, pineapple, tropical fruit are all characters that strike a chord with both hop lovers and people who are new to beer. It also doesn't hurt that the perceived bitterness is lower which appeals to a new portion of people who wrote off some IPAs because of bitterness.
Agreed. Pirate Life Perth's grand opening is just around the corner, maybe you could christen the kit with a specialty hazy for the Western Australian public?
I daresay there will be a hazy or two in the opening tap line-up. But I'm pretty sure there's a clause in my contract that dictates I have to christen the kit with our IIPA!
We had a feeling you'd say that! In closing can we get your thoughts on the current state of craft in Australia? Are you for the evolution of certain styles? Can the brewing fraternity go too far?
The current state of hospo and the beverage industry in Australia is still so young. It's an exciting path to forge. This culture we're a part of is definitely conducive to creating an evolution of 'Australian styles' or at least (as we've spoken about) 'Australian interpretations'. Can we go too far? We probably have in some areas, but where's the fun in not finding out...
Before you go, where can out customers get their hands on these two ripping beers?
Simply head to our Port Adelaide Brewery, selected bottle shops, or order a case via our online store!
Cheers Jackson, looking forward to sharing a pint with you over in Perth real soon.
Cheers!