Uncategorized, food
OG Stout Hot Cross Buns
By Pirate Life
08 Apr 2020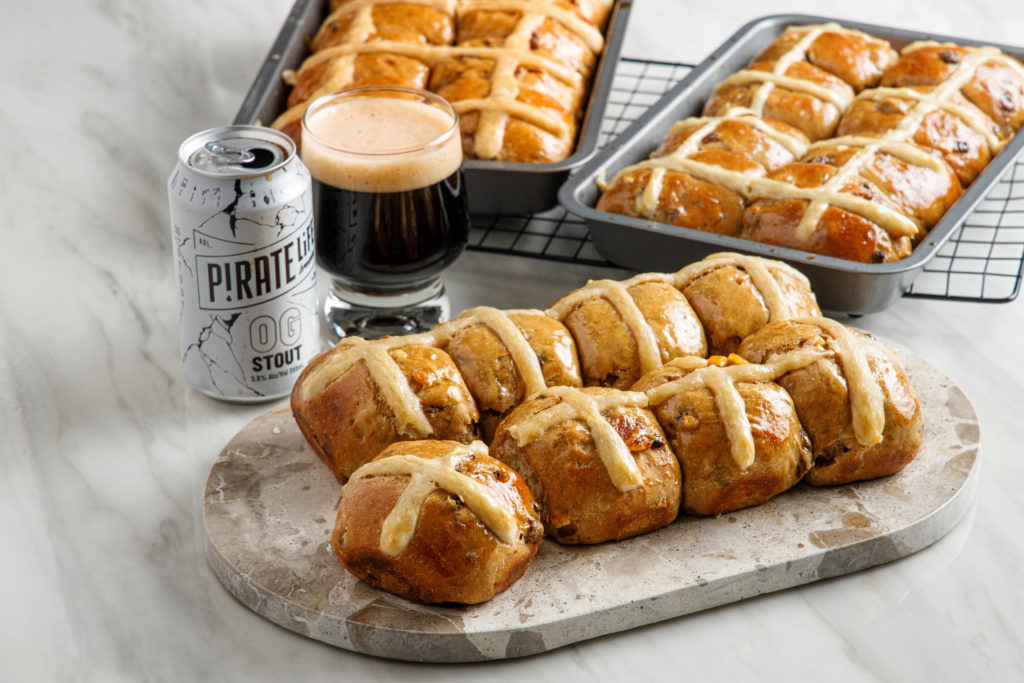 PL are always offering an elegant solution to the consumption conundrum. Appealing to your curiosity while charismatically luring you beneath the rim of the glass. The OG Stout is no exception, compiling everything you've ever loved about the quintessential winter beverage, yet slung generously with that trade-mark Pirate pizazz. This is why it was an absolute no-brainer to combine our love of hot cross buns, with this delicious drop!
Give it a whirl - you'll thank us later!
Ingredients
For buns:
½ tsp sugar
1 tsp instant dry yeast
250ml strong black tea
100g citrus peel
300g mixed fruit
1 Vanilla pod (or 2 tsp vanilla essence)
1 egg
50g melted butter
870g bakers flour
50g caster sugar
2 tsp cinnamon
1 tsp mixed spice
1 tsp salt
For crosses:
50g flour
40g water
10g oil
For glaze:
3 tbsp castor sugar
3 tbsp water
Method
Allow the OG stout to come to room temperature. Pour into a mixing bowl. Add 1/2 tsp sugar, and mix violently until the beer is flat. Add the yeast and lightly mix to combine. Leave for 10 - 15 mins to allow it all to get busy making deliciousness. You should see bubbles or a little bit of foam beginning to form at the top.
Make a strong black tea brew (2 tea bags) in 250ml boiling water. Mix the mixed fruit, mixed peel and vanilla in a large bowl, then pour over the strong tea mix to let it infuse and cool down.
Combine the egg and melted butter with the fruit and tea mix, and then stir this into OG stout batter.
Add the the flour, 50g caster sugar, spices and salt into the OG stout batter, then start adding the fruity mix in batches with a wooden spoon to combine all the delicious flavours.
Place this mixture onto your kitchen bench and briefly knead for 10 - 15 minutes to form a large ball. (Try not to over work the gluten or the buns will be shit.
Move into a clean large bowl and cover with cling film. Leave in a warm spot for 2 hours to rise. Note: Don't leave on top of your oven, as this might be too hot. Try outside in the sun, or in a heated room.
Preheat the oven to 180C fan forced oven (200C
regular).
Next get a knife, divide the dough into 100g - 110g pieces (you'll need scales for this) and shape them into balls. Place these in a non-stock lightly buttered baking pan. Make sure they are just touching each other. Cover them up with a clean tea towel and place in a warm spot for 1 hour.
This is the perfect time to crack open a tinnie!
To make the crosses:
Mix the flour, water and oil in a small bowl to form a runny paste. Pipe crosses over each dough ball.
Bake the buns at 180C fan forced for 25-30 mins, or until golden brown!
Mix 3 tbsp of castor sugar with 3 tbsp of water and brush this over the hot cross buns as they come out the oven to create that shine.
Allow to cool slightly and enjoy the goodness.
Please note if this recipe doesn't work it was Carole Baskin's fault!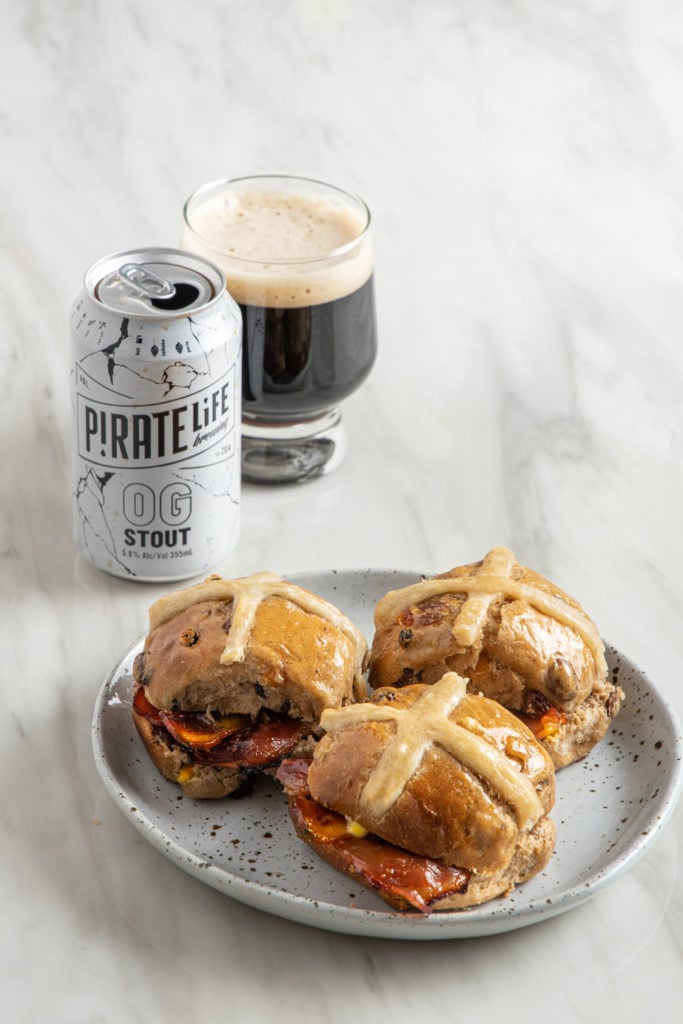 Mix it up! Add Stout glazed bacon.
3 - 4 rashers of rindless bacon
50ml OG Stout
100ml maple syrup
Preheat the oven to 180C fan-forced.
Bring stout to the boil in a small saucepan.
Pour in maple syrup and bring back to the boil, before reducing the heat to simmer for 5 minutes.
Remove from the heat and using a pastry brush, lightly coat the bacon rashers.
Cover a baking tray in a layer of alfoil to act as a dripping tray, then lay a wire rack over the tray.
Lay bacon on the wire rack and bake for 7 - 10 minutes, then reglaze.
Place back in the oven for a further 7 - 10 minutes or until golden.
Slice open a warm OG stout hot crossed bun, lather with butter and pack in your bacon!