Venue Updates
TEAMING UP WITH WORLD-RENOWNED CHEF, TAKING FOOD TRUCKS TO A 'NEW LEVEL' IN THE PORT
By Pirate Life
25 Nov 2020
Pirate Life's Port Adelaide venue will expand on an already delectable food offering this summer and team up with world-renowned chef, Jake Kellie – the SA based brewery has announced.
Having worked along-side culinary heavyweights Heston Blumenthal and Matt Moran, Jake also boasts a three-year stint as Head Chef of the Michelin starred 'Burnt Ends' in Singapore.
The tasteful move (which kicks off this Friday 27th) anchors not one, but two purpose-built food trucks in Pirate Life's Baker Street beer garden and will showcase a selection of dishes from both Kellie and PL's enigmatic Head Chef, Rocky Oliveira.
"I'm super stoked to be here, it's going to be a lot of fun over the summer period," Jake explains.

As for the food, "It'll be a lot of whole cuts, whole strip loin, whole pork, big lamb ribs. We're doing a vegetarian option and we'll bring in some seafood, probably in the next couple of weeks. It's going to be epic."
He'll be joined in the truck by fellow Aussie gun Zachary Goddard, who earnt his stripes working for the esteemed 'Leroy' in London, so it's safe to say punters are in for a treat. PL's Head Chef Rocky agrees and can't wait to fire things up on Friday:
"Both Jake and Zach are great chefs, and even better blokes. The good part about it, is it'll give people other options. You can come in here and have a burger, or some delicious lamb ribs off the grill, you can try some new things, different things. As always though, the food will replicate the beer...delicious and fresh AF."
PL's self-professed 'gastro' food truck menu (complete with Wagyu cheeseburgers, gourmet salads and Szechuan dusted white bait) will both compliment and contrast chef Kellie's selection of coal fired delights.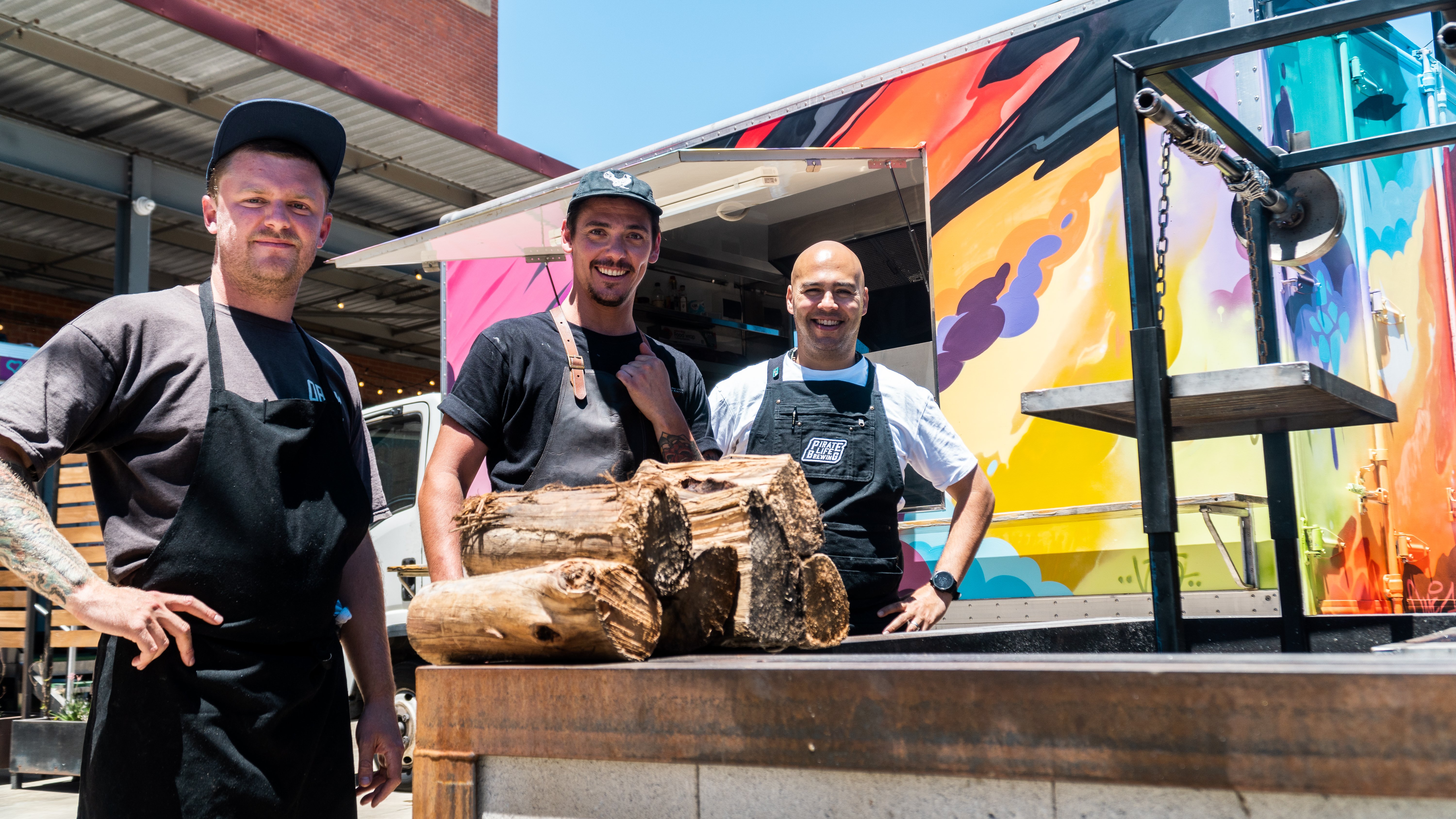 L-R: Zachary Goddard, Jake Kellie and Rocky Oliveira.
Head of hospitality, Katie van de Merwe, sums up the partnership elegantly:
"We're super excited to have the guys joining the crew and adding a charcoal element to our food offering down here at the venue. Beer goes so well with good food and good friends, so this collaboration seemed like a no brainer and something super exciting for the summer in Port Adelaide."
As restrictions continue to ease here in SA, there's never been a better time to head down to Pirate Life's Port Adelaide Brewery and sample some of the country's most progressive fare. Oh, and of course, let's not forget about the beer...