REACH FOR A COLD ONE THIS CHRISTMAS!
By Pirate Life
20 Dec 2022
We love celebrating Christmas down here at Pirate Life and firmly believe that when it comes to a festive spread, the beer is just as important as the food.
With that in mind, we've selected three of our favourite froths and crafted some very merry dishes to match – well, our Head Chef Rocky has, we just cleaned the plates!
Check out the recipes & pairings below and find out why you should be reaching for a cold one this Christmas…
---
Dish #1 - Grilled SA King Prawns w. Pineapple and Cucumber Salsa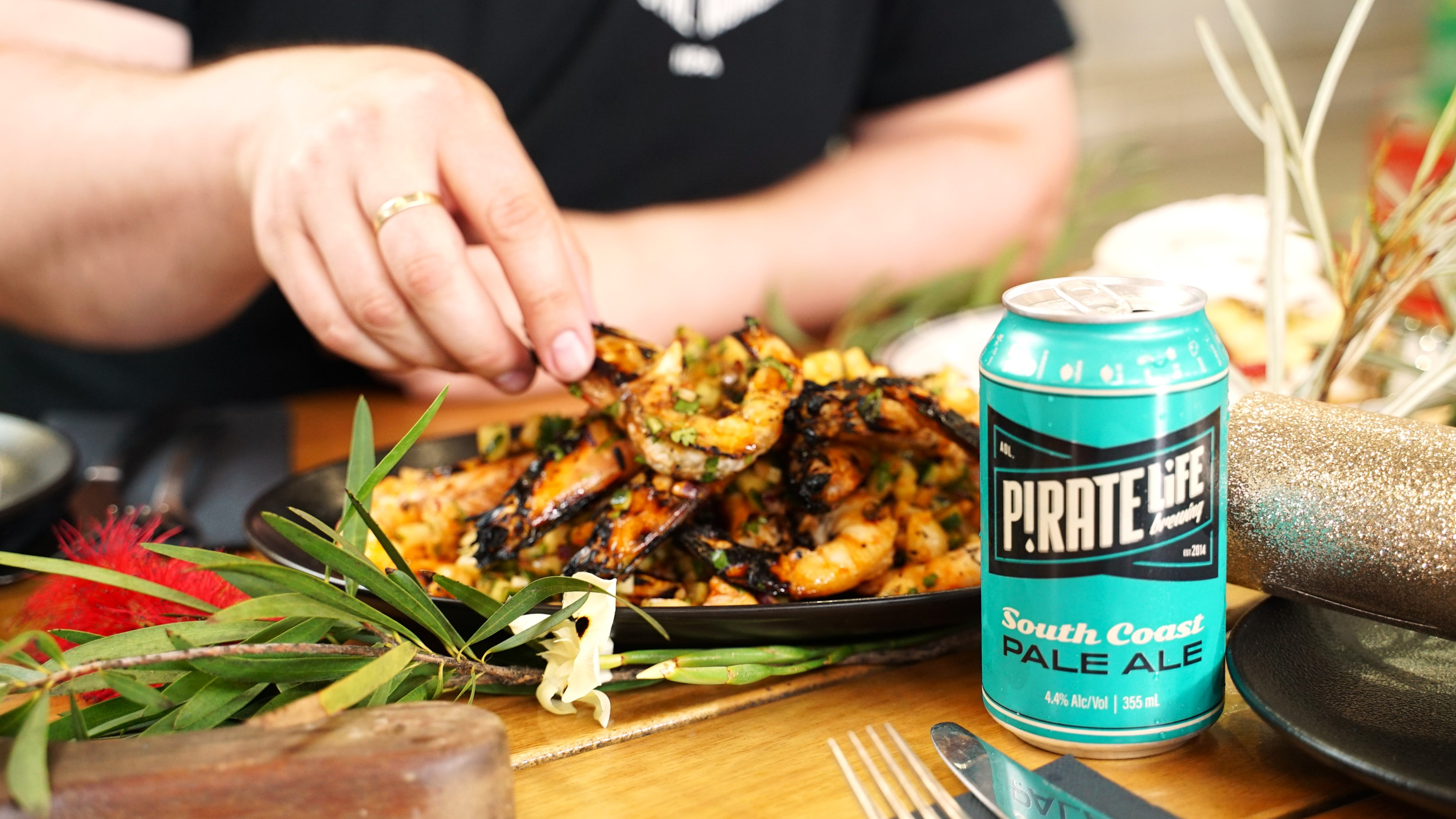 Prawns are a Christmas staple (there's no denying that) and taking them to another level is easy as. We cook ours over charcoal – it intensifies the natural flavour of the shellfish. Plus, it means you can eat the head.
A simple pineapple and cucumber salsa helps cut through the smoky char, while herbs and paprika lend a fragrant lift. Add a squeeze of lime and you're good to go.
Beer Match – South Coast Pale Ale 4.4%
Leave the Sauvy B in the fridge! Our South Coast Pale Ale is built for seafood and won't overpower the dish. It accentuates citrus while keeping the palate refreshed & on point. A crushable must for the Chrissy cooler.
Ingredients:
6 x SA King Prawns (raw)
Half a cucumber
¼ pineapple
1 x red onion
I x bunch mint
1 x bunch coriander
1 x lime
100 ml olive oil
1 /4 teaspoon smoked paprika
Salt and pepper to taste
Salsa:
Dice cucumber and pineapple
Add zest of one lime, chopped herbs, finely diced onion, paprika & olive oil
Mix & season to taste
Prawns:
Clean, de-shell, grill over charcoal
Serve:
Combine, slap on a plate, garnish with lime & enjoy.
---
Dish #2 – Glazed & Studded Leg of Ham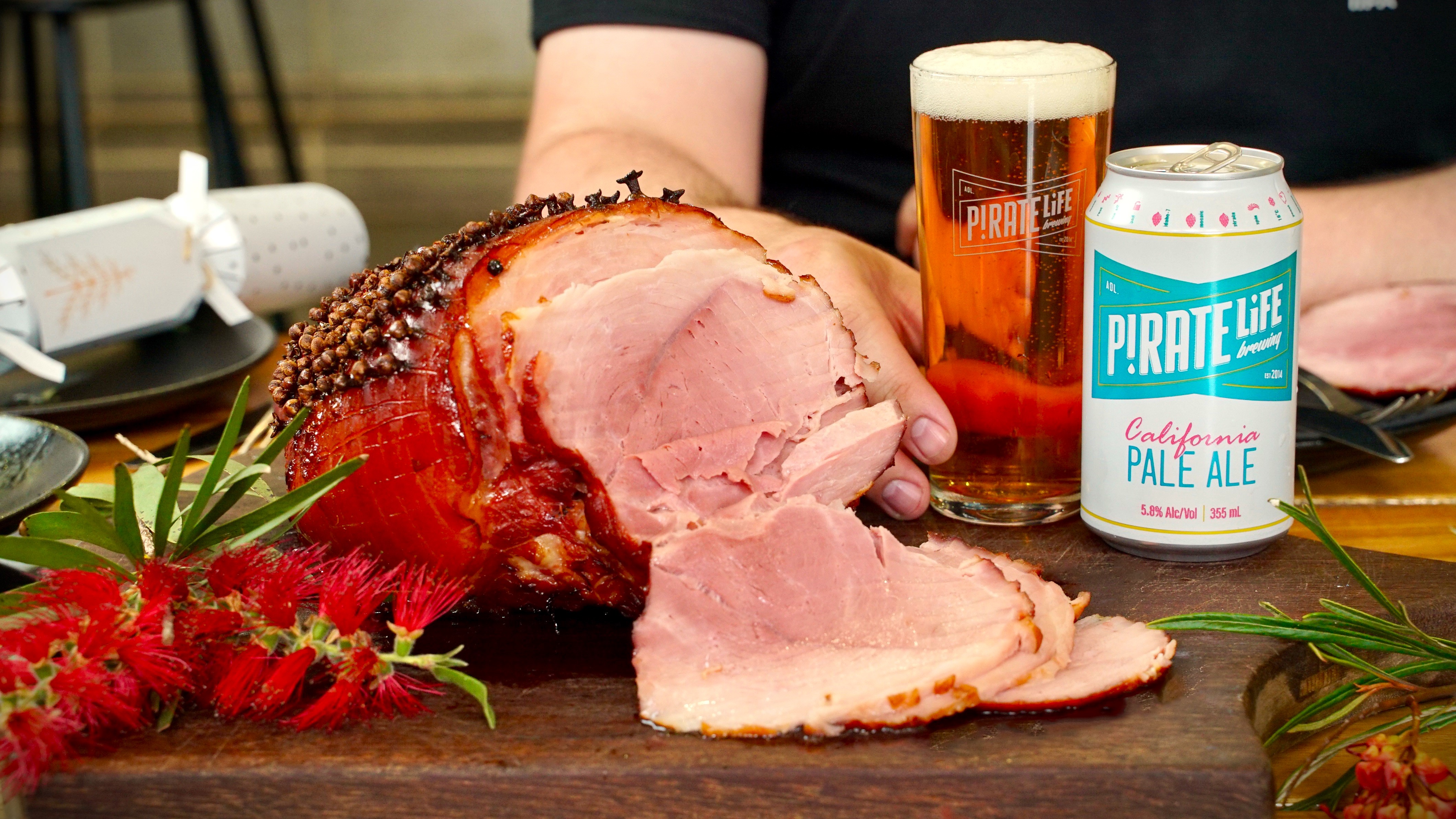 What a sight. If it doesn't get cleaned up at Chrissy lunch, this crowd favourite is great the following day with a dollop of mustard and (if you're not overly fussy like us) half a loaf of Wonder White.
Rocky glazed this leg up with a blend simple syrup and pineapple juice, but not before painstakingly studding it with cloves. Their scent permeates the meat nicely – definitely worth it if you've got the time.
Beer Match – California Pale Ale 5.4%
Our California Pale Ale has a cracking malt backbone + a decent whack of hops, making it a worthy match for the richness of the ham. There are sweet & salty characters at play here, with some elegant hints of spice (from both beer and dish) as well.
Ingredients:
1.2 kg leg of ham
100ml pineapple juice
100ml sugar syrup
Cloves
1 x cinnamon stick
Teaspoon black peppercorns
Glaze:
Mix 100ml sugar syrup & pineapple juice together, add cinnamon stick & peppercorns
Ham:
Bring ham to room temperature & pre-heat oven to 160 degrees
Score ham skin in square pattern (approx. half cm squares)
Stud cloves into centre of squares
Heat for twenty minutes, removing every 5 minutes to baste with glaze
Rest for 5 minutes before serving
Serve:
Take to table, carve into generous slabs & devour.
---
Dish 3 – Mini Pav w. fresh fruit, toasted nuts, coulis, & lemon cream curd. Ooft!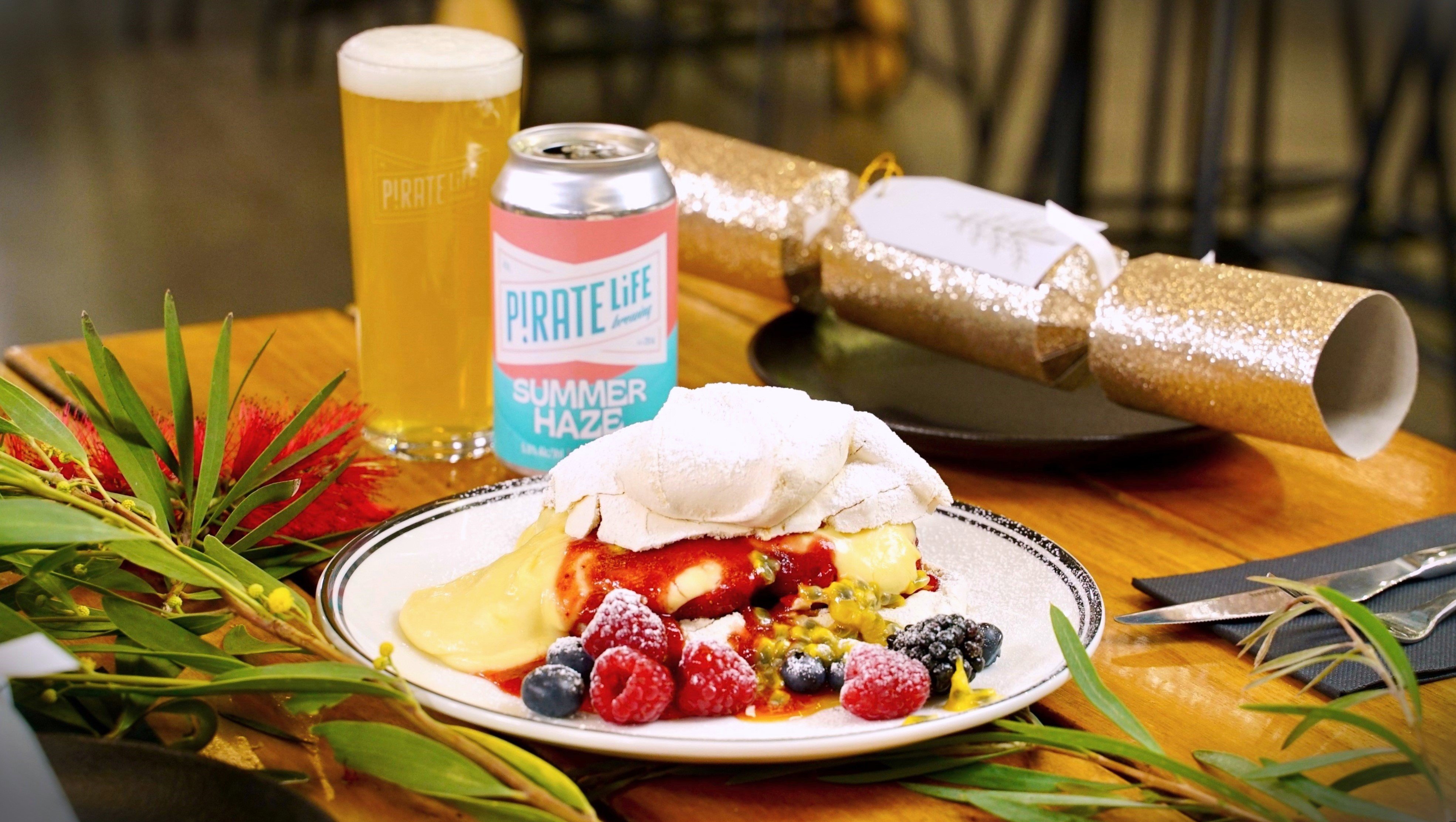 When it comes to Christmas lunch, it's best not to reinvent the wheel. That being said, there's nothing wrong with a fresh interpretation.
These mini pavs were baked with toasted hazelnuts and almonds, giving it a unique 'torrone' (tear-o-nee) like quality; for all the Italians playing at home.
Lemon curd cream and raspberry coulis lend a touch of decadence and the fresh fruit, well, you know how that goes. This one won't see Boxing Day.
Beer Match – Summer Haze
Just for the record, it's okay to have a coldie with dessert and in this case, PL's Summer Haze (a bright and fruity hazy pale) is a ripping accompaniment.
It's light-bodied (with low bitterness) and complements the fruit and zesty curd to a T. Does it get more Aussie than beer and pav? We think not…
Ingredients:
6 eggs whites
210g white sugar
50g hazelnuts (toasted, crushed)
100g flaked almonds (toasted)
2 x punnet fresh raspberries
1 x punnet fresh blueberries
1 x punnet blackberries
6 x passionfruit
200ml cream
1 x jar lemon curd (store bought is fine)
Pinch of salt
¼ teaspoon vinegar
Tablespoon icing sugar
Pavs (makes about 5):
Pre-heat oven to 120 degrees
Whisk egg whites and 200g sugar on high for 3 - 4 minutes till medium to stiff peaks are formed
Add a pinch of salt & ¼ teaspoon of vinegar towards the end (prevents over beating)
Fold in nuts
Place trayed pavs in oven & drop to 90 degrees
Cook for 90 – 120 minutes
Cream:
Beat 200ml of fresh cream with a drop of vanilla essence & a tablespoon of icing sugar
Fold in lemon curd to taste
Coulis:
Cook down 100g of fresh raspberries with 2 - 3 tablespoons of water & 2 tablespoons of sugar
Blitz, strain & set aside
Serve:
Cut pavs, slather with cream curd, drizzle with coulis, top, & dress with berries and passionfruit pulp.
---
Well, there you have it, our take on a ripping Chrissy lunch - complete with matching beers. Give the recipes a crack (hand on heart, they're delicious) and remember, never underestimate a froth's ability to elevate the gastronomic experience!
Cheers and Merry Christmas from everyone at Pirate Life Brewing, ox.