ICKY STICKY MISO STOUT
By Matty O'Callaghan
28 Jul 2021
Miso, that's fermented soybean paste right? Uh huh, cool. So what's it doing in my beer?! Well, PL Head Chef Rocky Oliveira is here to tell you all about it...
Since implementing our NPD (New Product Development) program back in 2019, we've produced an array of weird and wonderful beers.
Most have been received well, which makes us happy – especially when you consider that, in some cases, styles are literally being 'redefined'.
This Miso Icky Sticky Stout mightn't share Lemon Meringue Nitro Sour's glaring flamboyancy, but don't be fooled - it's bloody unique, and features a generous dollop of Chef Rocky's miso caramel sauce - amongst other things.
Setting foot on deck today post lockdown I was happy to find Rocky processing invoices in the venue. I stuck my phone on the table and hit record.
Good thing he's such an accommodating chap…
"Originally I put forward a miso caramel banana concept for a beer," he says through a pale blue face mask.
"We want to do an old school banana split on the new menu, and after playing around with a few flavour profiles at home, I mentioned the concept to Lewy.
"He came to me shortly after and said, 'right we're putting your miso caramel in a beer.' I think it was originally going to be called sticky date, but the icky sticky tagline is a better result (laughs.)
"We made up the miso caramel here on site...it was about fifty kilos all up, with nine kilos of white miso."
Miso, which is a paste made from fermented soybeans, is one of Rocky's go-to ingredients when he's looking to 'waken up' a dish.
"Miso has a very unique taste. When they ferment it, they usually do it with inoculated rice (aka Koji) so it definitely has that umami character to it.
"It's got an amazing ability to wake up the palate. When you have it, the saliva glands on the side of your tongue start bubbling away. I love it."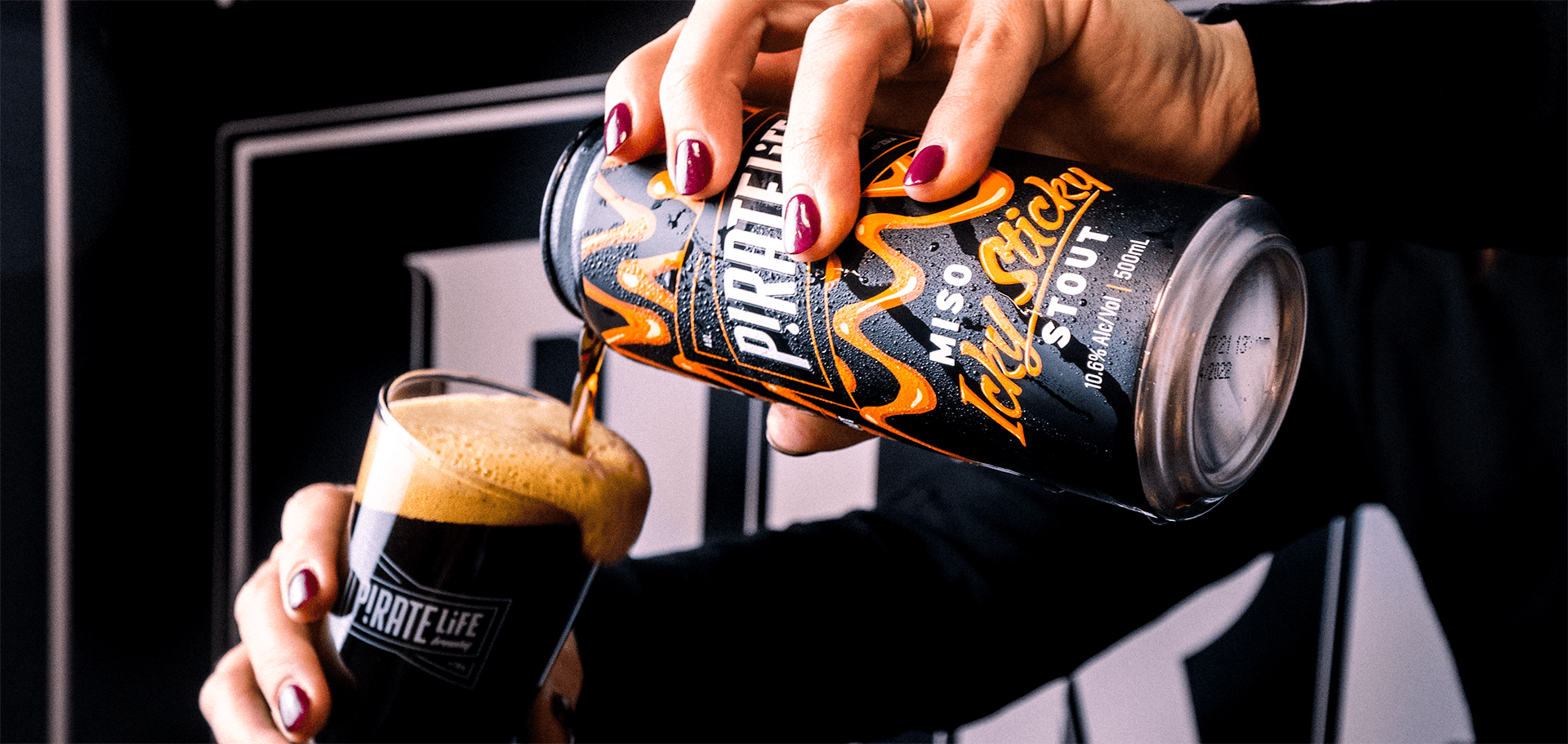 Some of that real Icky Sticky...
---
Miso caramel isn't the only specialty ingredient used in the beer, with whole vanilla pods, golden syrup, brown sugar, and fifty litres of date syrup supplying additional deliciousness.
Mmm.
Of course there's a robust malt chassis holding all that up (twelve individual grain variants to be precise) along with a handful of Perle and Taiheke hops.
Having tasted the stout in tank, post fermentation, and now in its completed form, Rocky has his own take on how it shaped up:
"I tried it at the beginning, just after it went into tank, it definitely had that unique soy characteristic going on.
"I sampled it again after the vanilla went in, which added a whole new level to the beer. Now it's been finished up, I reckon it's great.
"It's got a beautiful nose to it. Vanilla, dark chocolate, notes of dried date as well. The flavour is round and well-balanced, with a good viscosity.
"I definitely get the umami...you see the saliva pooling in my mouth? Look at that!"
Maybe you're glad it wasn't you sitting with chef at this point, but as an avid froth head and foodie too, I was actually quite impressed with what I saw, and to be truthful, my palate was doing the exact same thing.
He goes on:
"This beer isn't just great on its own, it can be used in the kitchen too. Lightly reduced in a pan it'll make an amazing sauce. Even 'as is' on vanilla ice cream, boom, you're on a winner. You could even use it to replace espresso in a tiramisu."
Beeramisu? What are you waiting for?! Nail your Icky Sticky Miso Stout ASAP! It's currently available for purchase ONLINE and via our Port Adelaide Brewery.
Get in while stocks last!