Stockists
Hazy Pale Stockists
By Pirate Life
19 Nov 2020
ABV: 5.4%
This unfiltered ale pays homage to a PL classic, albeit through a slightly 'hazy' lens.
It's brewed with a selection of premium malts. Wheat and Pale lend a sturdy base, while Munich, Carapils and Caraaroma add body and a light toffee hue.
It pours with an attractive opacity, thanks to polyphenols accrued during dry hopping. International varieties Kohatu, Wai-iti, Strata and Mosaic supply intense aromas of tropical fruit, with lifted notes of citrus and pine.
It's moreish and malty, with a well-rounded mouthfeel and fine mid-palate bitterness. There's glimpses of our OG West Coast Pale, but in all honesty, this one's a little more approachable.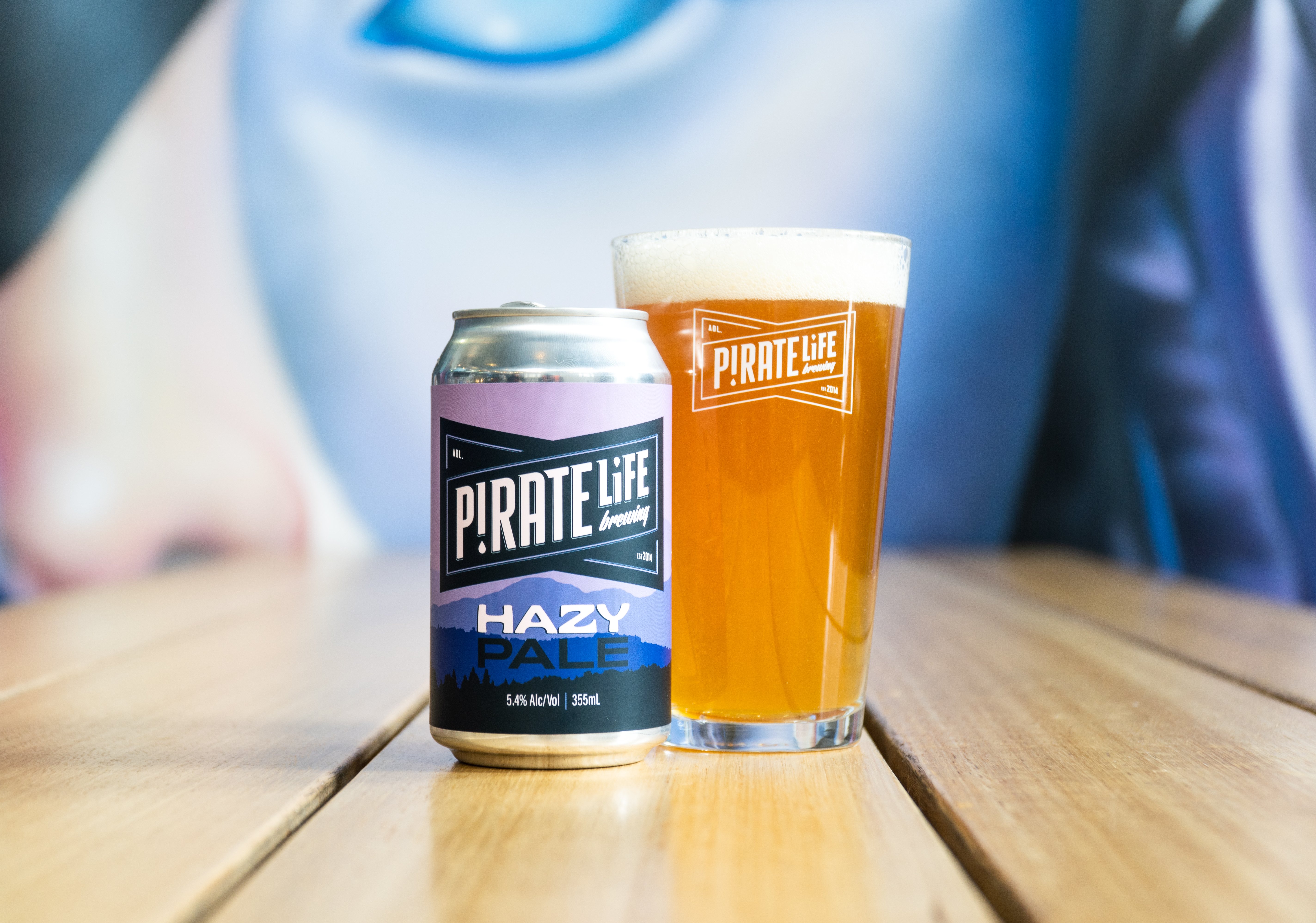 Base Malt: Pale Malt, Wheat Malt
Specialty Malt: Munich Malt, Carapils, Caraaroma
Hops: Kohatu, Strata, Wai-iti, Mosaic
WESTERN AUSTRALIA
CELLARBRATIONS AT ARDROSS
THE ASHBY BAR & BISTRO
THE MARKET PLACE BALLAJURA IGA PLUS LIQUOR
CELLARBRATIONS AT BEELIAR
CELLARBRATIONS BELMONT
ASCOT LIQUOR BELMONT
BALDIVIS CELLARBRATIONS
CELLARBRATIONS MARKET
CELLARBRATIONS BUTLER
MARKET CITY TAVERN
CELLARBRATIONS AT CLARKSON
CELLARBRATIONS AT COTTESLOE
JOHN'S FOOD & LIQUOR STORE
FREMANTLE BOTTLESHOP
GLENDALOUGH LIQUOR STORE
CELLARBRATIONS PORT MANDURAH
CELLARBRATIONS AT HAMILTON HILL
LIQUOR IN THE VALLEY
SOUTH STREET ALE HOUSE
INNALOO SPECIALITY LIQUOR
CANDLEWOOD LIQUOR STORE
CELLARBRATIONS AT CARLISLE
KINROSS LIQUOR
CELLARBRATIONS AT LYNWOOD
MALIBU IGA PLUS LIQUOR
MANDURAH CELLARS
MAYLANDS TAVERN
CELLARBRATIONS AT MEADOW SPRINGS
CELLARBRATIONS MEDINA
MULLALOO IGA PLUS LIQUOR
CELLARBRATIONS AT MUNDARING
PEARSALL IGA PLUS LIQUOR
WHISTLING KITE
CELLARBRATIONS AT SHELLEY
CELLARBRATIONS AUSTIN LAKES
CELLARBRATIONS AT SUBIACO
THE GATE BAR & BISTRO
CELLARBRATIONS TWO ROCKS
CELLARBRATIONS VIC PARK CORKERS CELLARS
PORT QUAYS LIQUOR AND DELI
WATTLE GROVE LIQUOR
YOKINE LIQUOR STORE
CELLARBRATIONS AT CAPEL
CELLARBRATIONS DENHAM
CELLARBRATIONS AT THE QUEENS
CELLARBRATIONS CENTRAL
CELLARBRATIONS AT SUNSET
CELLARBRATIONS AT HARVEY
CELLARBRATIONS AT KALGOORLIE
KOJONUP LIQUOR STORE
MOUNT BARKER LIQUOR STORE
CELLARBRATIONS AT NEWMAN
CELLARBRATIONS AT HOWLETTS
CELLARBRATIONS AT PORT DENISON
CELLARBRATIONS AT WAROONA
WONTHELLA SUPA IGA SUPERMARKET &
CELLARBRATIONS LIQUOR STORE
MAIN ST CELLARS BALCATTA
THE BOTTLE O BYFORD
THE BOTTLE-O FORRESTFIELD
THE BEACONSFIELD HOTEL
SEXTON CELLARS
THE BOTTLE O KIARA
LANGFORD ALEHOUSE & BISTRO
PORT KENNEDY TAVERN
LIQUOR BARONS YANCHEP
THE BOTTLE O NORTH ROAD
THE BOTTLE-O DONGARA
CLAREMONT SPECIALITY LIQUOR
SOUTH AUSTRALIA
ALBION HOTEL TC
AUSSIE INN HOTEL TC
AVOCA HOTEL DD
BELAIR HOTEL TC
BOATHOUSE TAVERN DD
BOMBAY BICYCLE CLUB TC
CLOVERCREST HOTEL
COVE TAVERN TC
CRAFERS INN JOINT VENTURE
GOODWOOD PARK HOTEL
GRAND TASMAN HOTEL CPP
HIGHLANDER HOTEL TC
HOTEL CROWN
HOTEL MCLAREN
KINGSFORD HOTEL
LARGS PIER HOTEL MOTEL
MAWSON LAKES HOTEL
MIDWAY TAVERN
MODBURY HOTEL
MORPHETT ARMS HOTEL
NARACOORTE HOTEL MOTEL
STRATHMORE CELLARS
TEA TREE GULLY HOTEL TC
HIGHWAY HOTEL TC
WARRADALE HOTEL TC
WOODCROFT TAVERN
YANKALILLA HOTEL TC
ALDGATE PUMP HOTEL
BEACH HOTEL SEAFORD
CASTLE TAVERN
CELLARBRATIONS BLACKWOOD
CELLARBRATIONS AT BRIGHTON
CELLARBRATIONS AT FLAGSTAFF HILL
CELLARBRATIONS MOANA HEIGHTS
CELLARBRATIONS AT MT BARKER
EYRE CELLARBRATIONS
CELLARBRATIONS AT PORT PIRIE
CELLARBRATIONS ROBE
SEMAPHORE ROAD CELLARS
CELLARBRATIONS AT FREWVILLE
CELLARBRATIONS AT NAIRNE
CELLARBRATIONS AT WOODSIDE
CHRISTIES BEACH HOTEL
COFFIN BAY GENERAL & LIQUOR STORE
CROWN INN
EMU HOTEL MORPHETT VALE
HENLEY FINE WINES
THE LODGE HOTEL
REZZ
TOWER HOTEL
THE VALLEY INN
WHITEHORSE INN HOTEL
NORTHERN TERRITORY
BEACHFRONT HOTEL
ZUCCOLI IGA FRESH
PIT LANE LIQUOR
NEW SOUTH WALES
CARLOS IGA PLUS LIQUOR BIRRONG
CARLOS HORSLEY PARK SUPERMARKET
RITCHIES BALLINA MIRVAC SITE
RITCHIES BOAMBEE
RITCHIES CESSNOCK
RITCHIES COFFS HARBOUR
RITCHIES ERINA
RITCHIES INVERELL
RITCHIES SUPA IGA KURRI KURRI
RITCHIES SUPA IGA NAMBUCCA HEADS
RITCHIES NEW LAMBTON
RITCHIES PORT MACQUARIE
RITCHIES SUPA IGA TAREE
RITCHIES SUPA IGA TAREN POINT
RITCHIES KYOGLE LIQUOR
RITCHIES SUPA IGA ELERMORE VALE
RITCHIES SUPA IGA MACLEAN
LOCKHART IGA PLUS LIQUOR
EXPRESS LIQUOR ADAMSTOWN
DIGGERS BOTTLESHOP
BLAKEHURST CELLARS
BAY HOTEL MOTEL
CAREY BAY CELLARS
CRINGILA CELLARS
FORRESTERS BEACH CELLARS
TATTERSALLS HOTEL
CELLARBRATIONS KOTARA
NAMBUCCA HOTEL
MARYLAND TAVERN
SHOAL BAY COUNTRY CLUB
CELLARBRATIONS AT TAMWORTH
TOORMINA HOTEL
CELLARBRATIONS AT VALENTINE
CELLARBRATIONS WEST KEMPSEY
WINGHAM CELLARS
TEA GARDENS CELLARS
BOTTLE O ASQUITH
BOTTLE O KILLARNEY VALE
THE BOTTLO LAMBTON
TENAMBIT CELLARS
TERALBA BOTTLE SHOP
BOTTLE O WICKHAM
TASMANIA
BEACHFRONT AT BICHENO B/BAR X
BELTANA HOTEL X
BEVVIES BOTTLESHOP CLAREMONT X
BEVVIES HOWRAH X
KINGSTON HOTEL X
MARGATE BAR & GRILL LBBAR X
SHOUT BOTTLESHOP BELLERIVE X
SHORELINE HOTEL
TALL TIMBERS
CBN EASTLANDS
SNUG TAVERN
CELLARBRATIONS AT KINGSTON
CELLARBRATIONS CAMBRIDGE
THE ABBEY
WELLINGTON BEER WINE & SPIRITS
CLUB HOTEL BOTTLE SHOP BURNIE
HEEMSKIRK MOTOR HOTEL
PENGUIN BIG BARGAIN BOTTLESHOP
STRAHAN CELLARS
MARQUIS HOTEL MOTEL
GLOBE HOTEL
BUSH INN HOTEL
CBN AT MEADOW MEWS
COMFORT HOTEL OLDE TUDOR
MOWBRAY LIQUOR STAX
SCOTTSDALE LIQUOR MARKET
ACT
CELLARBRATIONS AT BRADDON
CELLARBRATIONS AT BUNGENDORE
THE BOTTLE-O FYSHWICK
QUEENSLAND
CLUB HOTEL MOTEL ROMA
COMMERCIAL HOTEL BOONAH
MILES WINDSOR HOTEL MOTEL
LIONLEIGH TAVERN